Backgammon masters: update 1.7.60
by
2kbgames
We are pleased to announce that work on update 1.7.60 is completed! ?
The update required lots of work and includes mostly technical improvements, which, while hidden from the players' eyes, are incredibly important. Firstly, we developed a new mechanism for working with game resources (graphics, sounds) and updating them. The app has increased in size upon starting (when downloaded from the AppStore); however, it carries necessary resources. When connecting to the server, resources will not be downloaded fully, but only when something has been changed. This applies to iOS and macOS versions; for Android, nothing has changed.
We also added a new friend invite system. Now it pays to have friends! Invite friends and play together! The friend invite button can be found in two places: in the friend's section of the game lobby and in the "Bonus coins" section of the shop. This section will contain all possible ways to get additional coins. We also updated the graphics of the shop. Hopefully, you will like it! For each invited friend who hasn't played "Backgammon Masters" before, the player will get 1000 gold coins and the invited friend – 500 gold coins.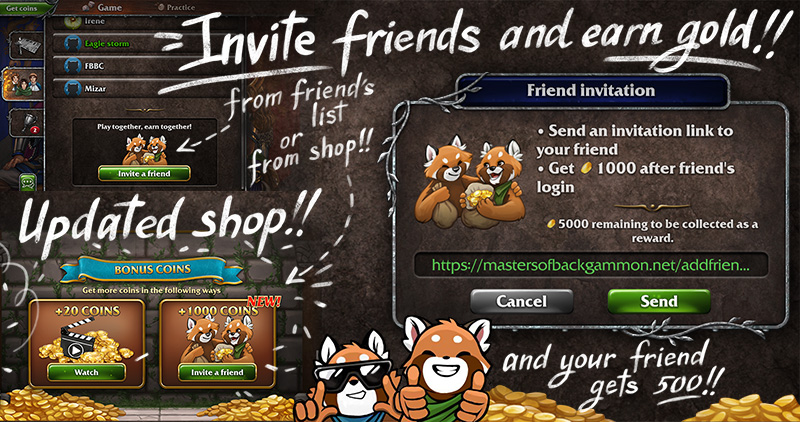 We also fixed tons of both major and minor bugs. We have improved the technical part of the project, preparing it for future updates that will enhance the gaming experience and add many new and exciting things.
We are always with you! Keep following the news. ?
Full change list for version 1.7.60:
The shop has been updated
Changed shop functioning
The "Friend invite!" mechanism has been updated. When adding a friend via the invite link, your friend gets 1000 gold coins, and you get 500. Each player can acquire up to 5000 gold coins by inviting their friends to the game.
Added friend invite section, which opens upon clicking the "Invite" button under the friend list and in the shop, where you can also acquire a friend invite bonus
Added notification window informing if the invited friend has entered the game
Updated the mechanism for updating graphical resources
Added initial graphic resources when downloading the app
Updated sound playback
Removed Bluetooth section and ability to play via Bluetooth
Fixed a bug affecting game speed
Fixed a bug upon opening a chest
Fixed bugs in the tournament notification panel
Fixed a graphical error in the tournament notification panel
Fixed error connecting to AppStore with disabled DNS
Fixed a bug with incorrect push notification processing
Fixed a bug in the shop with disappearing text on the Reward Video object button
Changed account linking section
Changed button animation
Fixed bug upon displaying the "Back" button
Fixed Facebook login
Fixed error when there is no data displayed in statistics
Fixed a bug where photo selection was blocked during account registration
Fixed a graphical error in the "V – Victory" animation
Removed network elements during practice game when there is no connection to the server
Fixed a graphical error in chat caused by the keyboard
Fixed a bug upon repeated pressing of the match view button
Fixed a bug in the text field
Updated font indents
Fixed sound notification playback when receiving a new message
Fixed a bug where the icon on the tournaments tab did not disappear upon disconnect from the server
Fixed app crash when adding a friend
Changed the behaviour of adding friends in chat
Fixed a bug with random special offer appearance in the shop
Added notification upon successful purchase restoration
Fixed temporary freezing of the app when logging out
Fixed app behaviour when turning on AirMode or turning off WiFi
Fixed a message when playing a gold game with a friend who has insufficient gold
Fixed crash when inviting a friend to a gold game
Fixed bug when connecting to Twitter
Fixed a bug due to which other people's photos were mistakenly displayed in the chat
Fixed a bug displaying player's photo in chat when the photo is pending approval
Updated account block window
Updated web browser windows
Fixed a bug when disconnecting during a practice game
Updated notification windows
Altered the left game panel
Updated stone background graphics
Fixed app freezing when linking to 2KB ID
Fixed bug in the text field when linking to 2KB ID
Fixed application crash when changing localisation
Added missing font characters for Turkish and German
Changed the greetings window after registration
Fixed application crash when clicking on the 2KB icon in the "Help" section
Fixed bug with overlapping background music
Updated articles in the "Help" section
Added "NEW" badge on new items in the store
Added a notification window when changing the name
Fixed text display in dice roll statistics
In macOS:
Fixed a bug where message didn't get sent when clicking "Enter" if an emoji was selected
In Android:
Fixed crash upon updating picture
Fixed crash during shop purchase
Fixed a bug when starting the application in AirMode
Added preview of the uploaded picture
Links:
Download 1.7.60 for Android for free
Download now:
🟢 Backgammon Masters for iPad & iPhone
🟢 Backgammon Masters for Android
🟢 Backgammon Masters for Mac