Backgammon Masters: update 1.6.0
by
2kbgames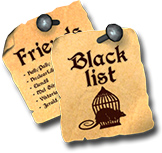 Dear players, we would like to share some information about the upcoming update. This time we added a lot of new features. Now players can add others to their friend list and invite to a game using Push-notifications. This way one can invite a player to game even if they aren't online. In the future we plan on adding private messaging between friends. We also added a black list which allows to ignore unfavorable players both in chat and in game lobby.
We also fixed a bug with font display on iPad Mini (1st generation).
The current update has been sent to Apple for review and will be available in the nearest future.
Happy gaming and thank you for your support!
In the future versions we will concentrate on internet game stability and tourneys.
Change list for version 1.6:
– Added friend system and black list
– Added a filtering system in chat and games based on black list
– Added option to invite friends to game using Push-notifications
– Added support for Mac with Retina Display
– Added section "Penalties" in internet game rules
– Fixed critical bug related to iPad Mini
– Fixed bug upon game with DICE+
– Fixed bug related to display of dice roll statistics
– Fixed various small bugs